uab bank relocates in 'Rise Above' march to new HQ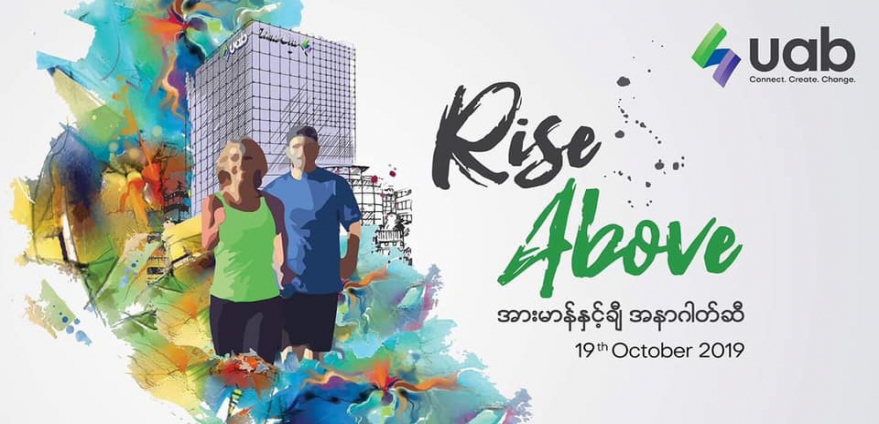 Yangon 19th October 2019 – uab bank who was recently crowned Myanmar's Best Bank by Euromoney took another big step forward by relocating their headquarters in a 'Rise Above' march to uab Tower @ Times City.
The new headquarters spans three levels covering over 60,000 square feet at the recently completed Times City Yangon development, the largest and most luxurious commercial development in the heart of Yangon. Rising tall above the rest of the surrounding building, uab Tower @ Times City is setting new benchmark in the future of workplace in Myanmar with ultra-modern facilities, open and innovative workspace and the adoption of facial recognition technology for access control.
In addition to its new headquarters, uab bank is expected to open a state-of-the-art concept store spanning 2 levels at Times City Yangon with approximately 7,000 square feet at the Jewellery Mall by early 2020. Apart from an innovative retail experience, the flagship branch will serve as the platform to pilot and launch new technology and services to customers.
Marking this momentous occasion, over 300 uab bank employees today marched 4km from the old head office at Kabar Aye Pagoda Road to their new headquarters at uab Tower @ Times City in an event titled 'Rise Above'.
Christopher Loh, MD & CEO of uab bank said,
"This is indeed a very special occasion for all uabians especially coming on the back of our recent win at Euromoney where uab bank was named Myanmar's Best Bank. uabians have been waiting for this day and it is finally here. The theme 'Rise above', inspired by uab Tower rising above the other buildings in its surrounding, represents uab bank rising above and scaling new heights.
More than that, 'Rise Above' is also a call to all uabians to step up and rise above themselves, to shed the old mindset, embrace the change and culture needed for each uabian to be successful. It demonstrates uabians' commitment to our purpose of Leading Change and Humanising Banking."
uab bank will officially commence its operations at the new headquarters – uab Tower @ Times City effective Tuesday, 22nd October 2019.
#LeadingChange #HumanisingBanking
About uab bank
uab bank is a leading bank in Myanmar. Established in 2010, we are now serving our customers from a growing network of over 78 branches in 47 townships across Myanmar. uab provides a wide range of financial services including consumer banking, premier banking, SME banking, corporate banking, trade finance and treasury services. Through our subsidiary uab securities, we also provide brokerage services, corporate and financial advisory, investment banking and capital market activities.
Recognised for its successful transformation and leadership in the Myanmar banking sector amidst the regulatory changes and governance requirements, uab bank was named 'Myanmar's Best Bank' by Euromoney, 'Mid-sized Domestic Retail Bank of the Year' by Asian Banking & Finance, and was ranked No. 1 in Corporate Governance Disclosure by TiME Pwint Thit Sa Report published by the Myanmar Centre for Responsible Business.
At uab bank, we believe in leading the way towards a better Myanmar, humanising banking, connecting people, creating opportunities and changing lives. In December 2017, uab launched "Be The Change Myanmar" initiative that represents our commitment to driving change for a better Myanmar, specifically focusing on empowering women and children. We believe uab must operate responsibly and be committed to the community we are in.
For media enquiries, please contact:  
+ 95 9 4 2020 1170