uab bank partners GRG Banking to bring banking innovation to Myanmar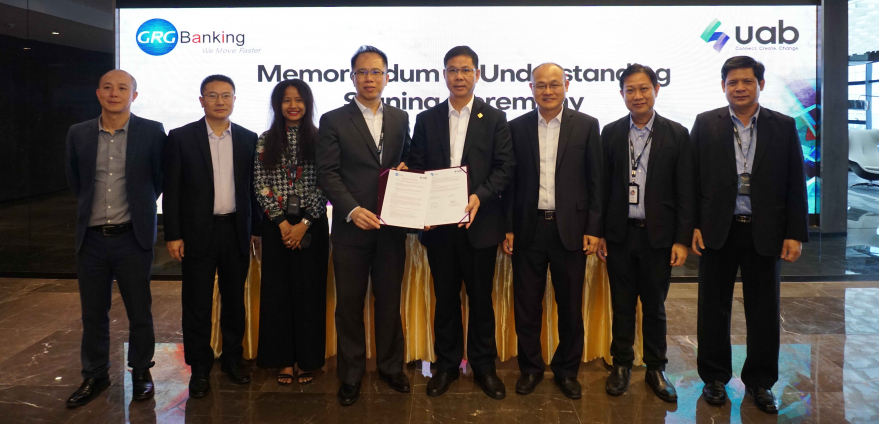 Yangon, 25th November 2019 - uab bank, Myanmar's Best Bank by Euromoney, signed a Memorandum of Understanding (MoU) with GRG Banking (GRG) last week for a broad-based strategic collaboration to bring banking innovation to Myanmar. The strategic collaboration will cover areas including branch automation, virtual banking, biometric authentication, artificial intelligence, blockchain, and other financial technologies. 
GRG is a leading global financial and Artificial Intelligence (AI) solutions provider, ranking number one in China and top three in the global Automatic Teller Machine (ATM) market. GRG is also a leading developer in integrating innovative technologies including, biometric recognition, intelligent voice and human-computer interaction in banking transformation solutions. GRG's video teller machine (VTM) was adopted by DBS Bank in Singapore and was recently highlighted by Singapore Prime Minister Lee Hsien Loong in the 2019 National Day Rally speech. 
The signing ceremony was held at the new Head Office of uab bank – uab Tower @ Times City on 20th November 2019. 
Commenting on the strategic collaboration with GRG Banking, MD & CEO of uab bank, Christopher Loh said,  
"This strategic collaboration with GRG Banking – a world leader in banking technology will enable uab bank to acquire and deploy cutting edge technology to bring convenience and innovative experience to our customers. We intend to deploy some of these latest technology and products at our very first retail flagship store spanning over 7,000 square feet at Times City Yangon in the first quarter of 2020. 
We believe with this partnership, uab bank will be able to simplify, humanise and make financial services more inclusive. The collaboration also underscores our continued commitment to leading change."  
Andy Huang, Chairman of GRG Banking added, 
"GRG Banking is one of major ATM brand in Myanmar market, we account for 25% of Myanmar market share. We are very happy to work with uab bank for last seven years, and will extend these co-operations on long term basis, GRG Banking would like to introduce some more branch transformation solutions to Myanmar banking industry." 
 
#LeadingChange #HumanisingBanking 
About uab bank  
uab bank is a leading bank in Myanmar. Established in 2010, we are now serving our customers from a growing network of over 78 branches in 47 townships across Myanmar. uab provides a wide range of financial services including consumer banking, premier banking, SME banking, corporate banking, trade finance and treasury services. Through our subsidiary, uab securities, we also provide brokerage services, corporate and financial advisory, investment banking and capital market activities.  
Recognised for its successful transformation and leadership in the Myanmar banking sector amidst the regulatory changes and governance requirements, uab bank was named 'Myanmar's Best Bank' by Euromoney, 'Mid-sized Domestic Retail Bank of the Year' by Asian Banking & Finance, and was ranked No.1 in Corporate Governance Disclosure by TiME Pwint Thit Sa Report published by the Myanmar Centre for Responsible Business. 
At uab bank, we believe in leading the way towards a better Myanmar, humanising banking, connecting people, creating opportunities and changing lives. In December 2017, uab launched "Be The Change Myanmar" initiative that represents our commitment to driving change for a better Myanmar, specifically focusing on empowering women and children. We believe uab must operate responsibly and be committed to the community we are in.  
About GRG Banking 
GRG Banking is a world leader and top provider in financial self-service industry and aims to become a leading AI solution provider in the world with its innovative technologies and solutions. 
GRG Banking was founded in Guangzhou, China in 1999, and was listed in Shenzhen Stock Exchange market in 2007. GRG Banking is the No.1 ATM supplier in China since 2008 and is currently the Top 3 vendor in financial self-service industry globally with more than 300,000 equipment deployed in over 80 countries. 
GRG Banking provides abundant series of hardware and software products including ATM, cash recycler, cash depositor, cash sorter and branch transformation solutions. GRG Banking also strategically invests into R&D of key AI technologies, such as biometrics identification, big data analysis and blockchain, etc. GRG Banking AI solutions are focused in 4 areas: Intelligent Finance, Intelligent Transportation, Smart Security and Convenience Retail. 
For media enquiries, please contact the following:  
uab bank
+95 9 4 2020 1170 
GRG Banking